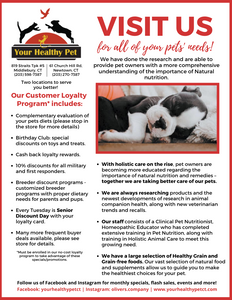 Pet Nutrition You Can Trust
We have done the research and are able to provide pet owners with a more comprehensive understanding of the importance of natural nutrition. 
We have a large selection of Healthy Grain and Grain-free foods. Our vast selection of natural food and supplements allow us to guide you to make the healthiest choices for your pet.
What We offer and so much more...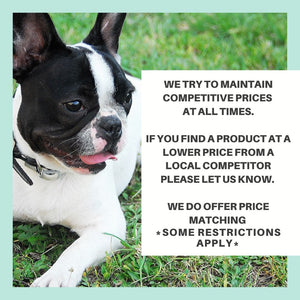 We Price Match!
We try to maintain competitive prices at all times. If you find a product at a lower price from a local competitor, please let us know. 
*restrictions apply, call store for details*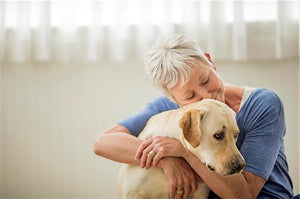 Senior Tuesdays
Seniors get 10% off your entire order on Tuesdays by joining our Customer Loyalty program.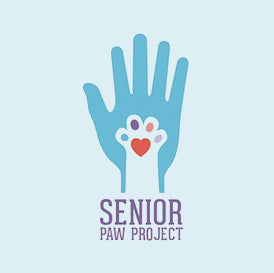 Senior Paw Project
Honoring the bond between caregivers and their pets, the Senior Paw Project steps in to assist senior pet owners and their animals when that relationship is in jeopardy by providing assistance when they need it.
Learn More
this is why we do what we do:
This store covers all your pets needs! The staff is super friendly and helpful! If it weren't for this establishment I'm sure my dogs would still be experiencing year long rashes, but with wonderful suggestions for new food and treat choices, my babies have been rash free for over a year! Thank you!

Robina R.
Wonderful family business! I get everything I need for my dogs (and my hamster), and what they don't have in stock, they order for me. Great place to get quality food, treats, toys, accessories... great selection, super helpful and knowledgeable. Active members of the local community too! Can't say enough good things... if I could rate Your Healthy Pet higher, I would!

Stacey G.
No way I can thank these people or this place enough. The owners are wonderful, incredibly knowledgable, unequivocally dedicated to the health and wellbeing of animals, and they have repeatedly helped us unravel and save the health of our cats and dogs. We are blessed to have them in our lives.

Elissa A.